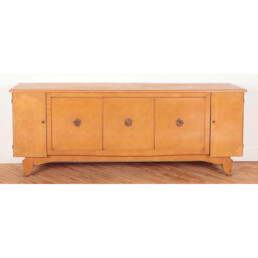 Andre Arbus & Vadim Androusov, sideboard (in restoration)
Ref #: SV26
Exquisite, large sideboard with five doors by Andre Arbus (1903-1969), resting on the base with stylized front legs and block back legs and presenting three middle doors in parquet-veneered sycamore decorated with fantastic sculptural escutcheons in bronze-dore by Vadim Androusov (1895-1975, Russian), depicting Poseidon and Amphitrite in lovers embrace, flanked by trumpet playing nymphs; the whole scene most likely tribute to Poseidon's and Amphitrite's wedding. In sycamore.
Currently in restoration. 
Literature: "Andre Arbus, Architecte-Decorateur des Annees 40", by Yvonne Brunhammer, editions NORMA, Paris, France, 2003; pages 98, 306 and 368 for similar pieces.
Age: Ca. 1940.
Origin: Paris, France
Measurements: 96″ w, 19 3/4″ d, 37 1/4″ h
---
---
---