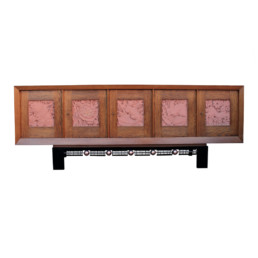 Albert Lucien-Guenot, important sideboard
Ref #: SV15
Extraordinary sidebaord designed by Albert-Lucien Guenot (1894-1993) and produced by Atelier d'art du Bon Marche for exhibition titled "Dining Room" at The Salon by La Societe des Artistes Decorateurs; held from May 6th until July 5th, 1936 at the Grand Palais in Paris, France. In palmwood and quarter-sawn tiger oak; of rectangular shape with five doors, each featuring superior bas-reliefs in terra-cotta depicting African animals: crested porcupine (hystrix cristata), spurred tortoise (centrochelys sulcata), bat-eared fox (otocyon megalotis), fennec fox (vulpes zerda) and scrub hare (lepus saxatilis). Middle cabinet with a single door flanked by larger cabinets with pairs of doors each, enclosing single shelves. Resting on black metal base of bracket legs connected with system of 6 horizontal coil springs enveloping a full length polished copper slim rail and exposed spheres. Three original keys. Art Deco period.
Literature:
– this model is shown on page 257, pic. 322, Albert Guenot, Dining-Room; "The Decorative Arts in France, La Societe des Artistes Decorateurs, 1900-1942", by Yvonne Brunhammer & Suzanne Tise, Rizolli New York, 1990.
– this model is shown on page 23, "Le Décor d'aujourd'hui" (Decor Today), Periodique #17, printed in Paris, France, June/July 1936.
Age: Ca. 1936.
Origin: Paris, France
Measurements: 97 3/4″ w, 21 3/4″ d, 35 3/4″ h
Sold
---
---
---